Automatic Powder Packaging Machine
Product Detail
Product Tags
Servo drive for film feeding
Synchronous belt by servo drive is more better to avoid the inertia, make sure the film feeding to be more exact, and longer working life and more steady operation.
PLC control system
Program store and search function.
Almost all the operation parameter (such as feeding length, sealing time and speed) could be adjusted, stored and callout.
7 inch touch screen, easy operation system.
The operation is visible for sealing temperature, packaging speed, film feeding status, alarm, bagging count and other main function, such as manual operation, test mode, time & parameter setting.
Film feeding
Open film feeding frame with color mark photo-electricity, automatic correction function to make sure roll film, forming tube and vertical sealing is in the same line, which to reduce material waste. No need to open vertical sealing when correction to save operation time.
Forming tube
Completed set of forming tube for easy and fast changing.
Pouch length auto tracking
Color mark sensor or encoder for auto tracking and length recording, make sure the feeding length will match the setting length.
Heat coding machine
Heat coding machine for auto coding of date and batch.
Alarm and safety setting
Machine stop automatically when door open, no film, no coding tape and etc., to guarantee the safety of operator.
Easy operation
The bag packing machine can match most of balance and measuring system.
Easy and fast to change wearing parts.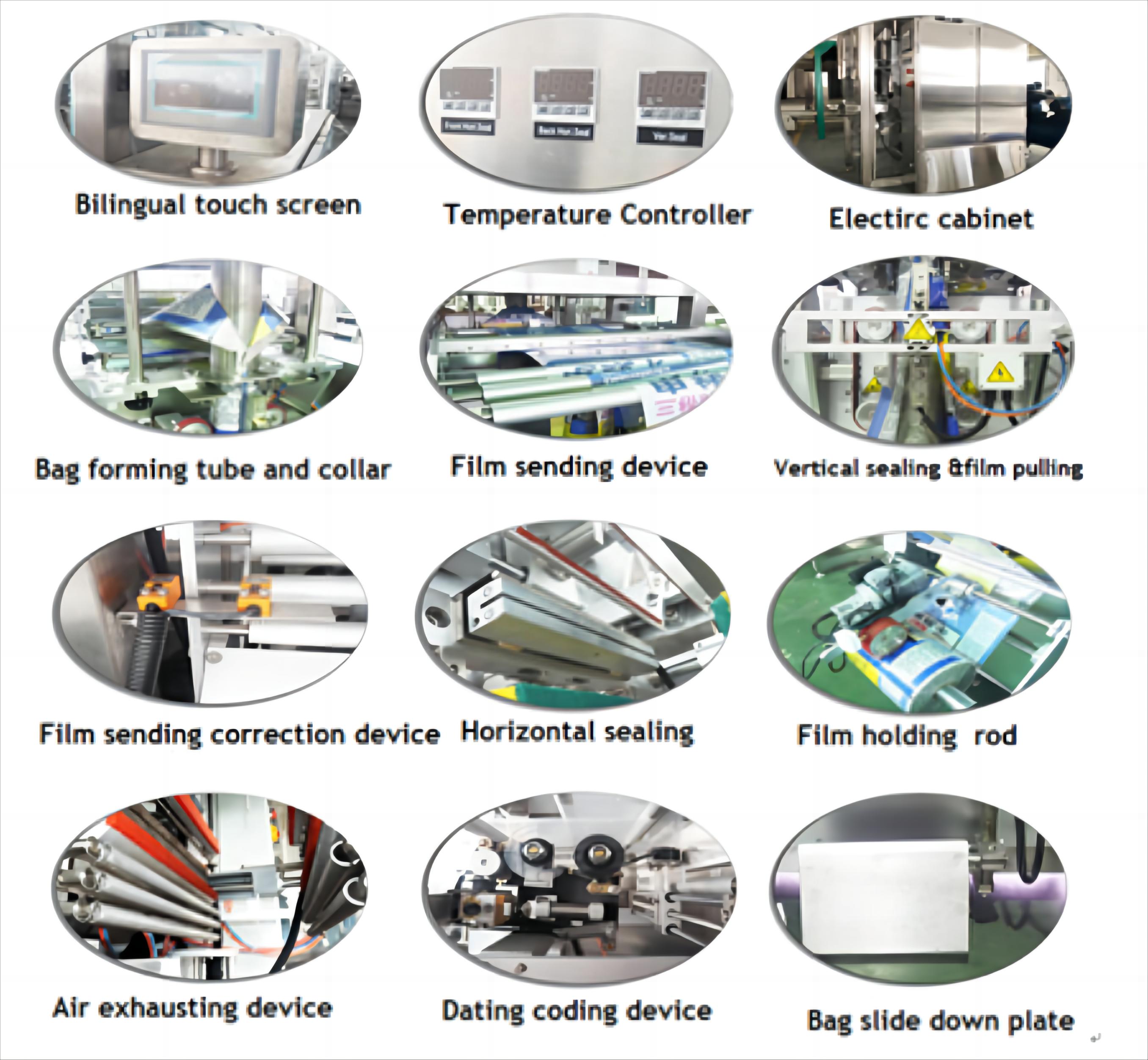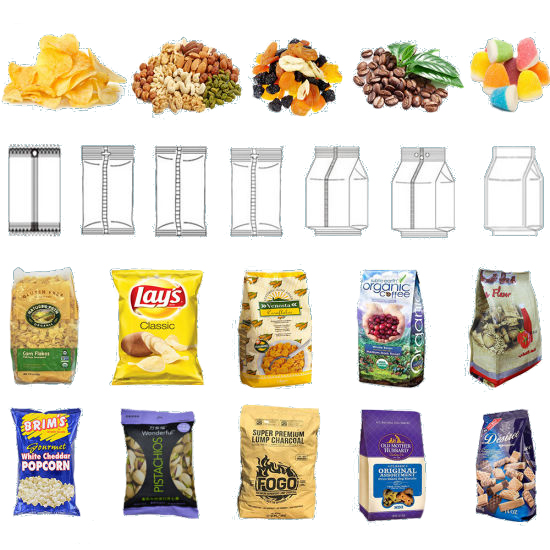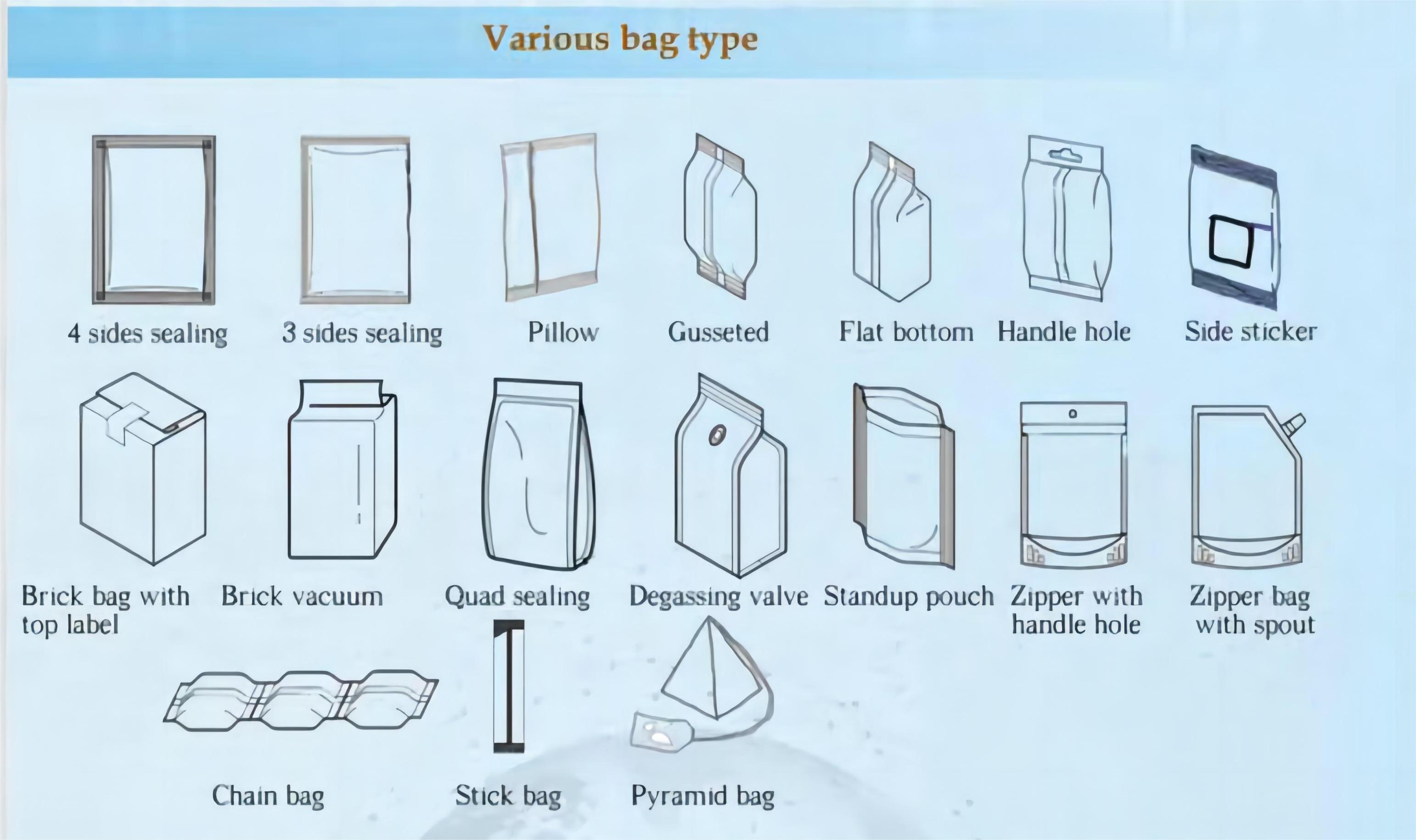 | | | | | |
| --- | --- | --- | --- | --- |
| Model | SPB-420 | SPB-520 | SPB-620 | SPB-720 |
| Film width | 140~420mm | 180-520mm | 220-620mm | 420-720mm |
| Bag width | 60~200mm | 80-250mm | 100-300mm | 80-350mm |
| Bag length | 50~250mm | 100-300mm | 100-380mm | 200-480mm |
| Filling range | 10~750g | 50-1500g | 100-3000g | 2-5kg |
| Filling accuracy  | ≤ 100g, ≤±2%;100 - 500g, ≤±1%; >500g, ≤±0.5% | ≤ 100g, ≤±2%;100 - 500g, ≤±1%; >500g, ≤±0.5% | ≤ 100g, ≤±2%;100 - 500g, ≤±1%; >500g, ≤±0.5% | ≤ 100g, ≤±2%;100 - 500g, ≤±1%; >500g, ≤±0.5% |
| Packing Speed | 40-80bpm on PP | 25-50bpm on PP | 15-30bpm on PP | 25-50bpm on PP |
| Install Voltage | AC 1phase, 50Hz, 220V | AC 1phase, 50Hz, 220V | | AC 1phase, 50Hz, 220V |
| Total Power | 3.5kw | 4kw | 4.5kw | 5.5kw |
| Air Consumption | 0.5CFM @6 bar | 0.5CFM @6 bar | 0.6CFM @6 bar | 0.8CFM @6 bar |
| Dimensions | 1300x1240x1150mm | 1550x1260x1480mm | 1600x1260x1680mm | 1760x1480x2115mm |
| Weight | 480kg | 550kg | 680kg | 800kg |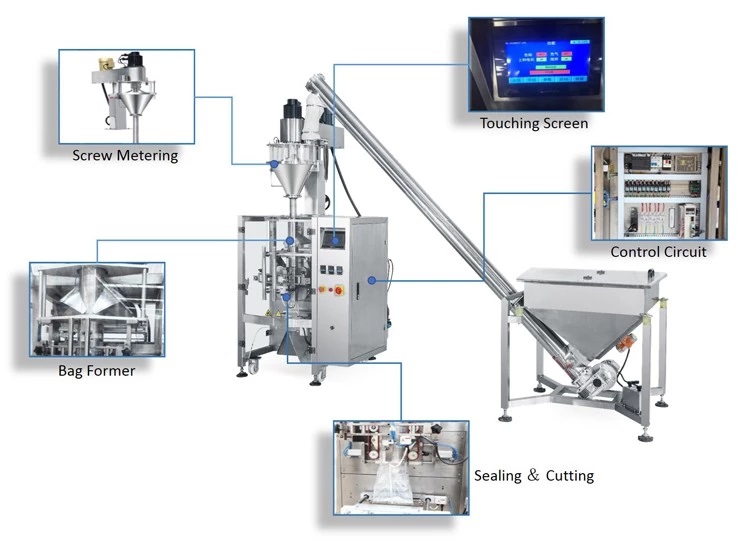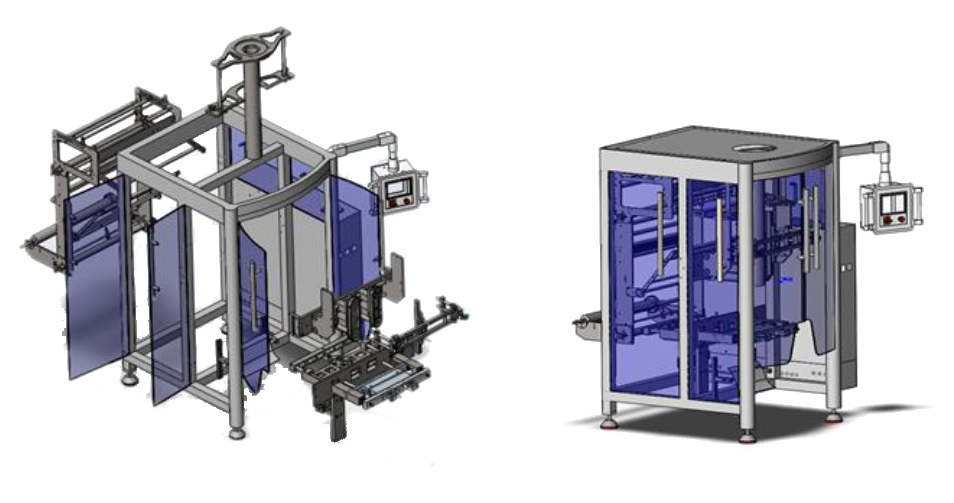 ---
---
Write your message here and send it to us